In Danish

Welcome to
The homepage of
The Family Vej-Hansen


We are a family of 5 persons:
Parents: Mads og Benedicte. Children: Anders (1977), Katrine (1979) and Cecilie (1986).
The parents live in Denmark in a small town, Espergærde, about 40 km north of Copenhagen and 7 km south of Elsinore.


---

If you want to send us a mail: Mail til Benedicte og/eller Mads
---
Here's a little about us
We live south of Elsinore (Helsingør) - the town with Kronborg Castle (Hamlet)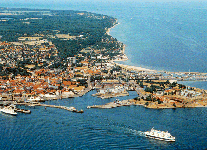 Mads: I'm an engeneer (B.Sc.Civ.Eng.). I'm working in Banedanmark - The Danish National Railway Agency, where I'm occupied with co-ordination of projects, planning and economy in connection with the renewal of the national railway network in Denmark.


Leisure-time: Until the children grew up I've been in the schoolboard of Mørdrupskolen for 16 years. For 8 years I was the chairman of the schoolbard. Read more about Mørdrupskolen in Espergærde. For all 16 years I've been editor af the school-magazine KOSLE.


I'm auditor in our local music-society, Espergærde Musikforening. It is one of the largest music-societies in Denmark. Look at the fascinating program of classical musik

I'm playing saxophone.
I've played altosax since 1998 and tenorsax since the beginning of 2002. Benedicte and I have in 2003 started playing in North Sealands Concert Band

I've been the administrative leader of the orchestra a couple of years.

I'm member of the board in our local historical society: Historisk Forening for Espergærde og omegn
I'm webmaster of the homepage for the historical society


I have written a couple of descriptions of some of our travels to France, Italy etc. Read and get inspiration! They are all in Danish! There are more links on the danish part of the homepage.

Sydfrankrig 1996 - Norditalien 1997 - Rom 1999 - Bådferie i Bretagne 2000 - Cykelferie i Bourgogne 2002

Benedicte: I'm a pharmacist (Ph.D of. Pharmacy) and are working in the Lægemiddelstyrelsen, Danish Medical Agency.
Leisure-time: I'm very interested in my garden (It's my husbond's lawn and hedge!). I've started playing Clarinet and got one on my birthday. Mads and I have in 2003 started playing in North Sealands Concert Band

Anders: I'm a Mediciner. I've finished my study in 2005.
Leisure-time: I've been a scout in the Danish Scout Association. I've been a member of the leadership of the scoutorganisation. Beyond this I've been singing in a church in Snekkersten - Sthens Kirke. Snekkersten is situated between Espergærde and Elsinore. In addition to this I'm playing piano.

Katrine: I'm a master in political science from the University of Copenhagen. In the year 2003-4 I was immatriculated at the University of Keele in England between Birmingham and Manchester, so I also have an english Masterdegree.
Leisure-time: I playing a little golf and music (piano).

Opdated the 04.04.2012